This is a simple FAQ to guide our trials and answer some of their questions.
I'm thinking about joining your raiding team. What is your raiding schedule?
We raid 3 days a week - Wednesday, Thursday and Monday - from 20h to 23h (server time).
What rules do I need to follow?
Raiding rules are simple, we don't consider ourselves very strict so we just follow guidelines based on common sense and inherent to raiding: be respectful to your fellow raiders, keep a good attendance level and be focused on the task at hand. We believe we have a relaxed atmosphere, but there are also moments requiring your full attention and the need to follow instructions. In order to keep a clear leading, it is also important to minimize the talk and save suggestions for the appropriate time.
What loot system do you use?
We use Loot Council, comprised of personalized rules and guidelines that focus on a priority system in order to distribute loot evenly among our raiders and keep the team reasonably balanced. We do often revisions to ensure the system maintains its fairness and be up to date on the features and changes added throughout the expansions. You'll have more information as soon as your trial starts. Battle for Azeroth is going to require a complete system overhaul.
How does a trial work in this guild?
The trial process depends on where we stand in the current tier. But the standard procedure is simple. We do not use application forms, instead we have a more personal chat with you. We do require logs, however. After an initial chat, you'll be requested to be part of guild runs so we have substance to analyze your performance and see how you conduct yourself in a raiding setting. Depending on the content we're doing at the time, it might be exceptionally asked to join some extra activities outside of raid days, such of alt runs or a couple of pugs.
I've just joined a trial period. What now?
Mainly two things to keep in mind: to be available and reachable. Assuming you're not in the guild we need to be able to contact you about the incoming raids you'll participate, to give some feedback or inform you about any other exceptional test we might want to do.
What will be the duration of this trial?
That entirely depends on you, on how you perform and act, of how many times you've joined our runs. Normally a trial lasts about 2 weeks. However, we reserve the right to extend this period if deemed necessary, we want to be comfortable making this decision. The reverse also applies: if we feel we've seen enough to make that decision, your trial period will be shortened.
What is expected from me during this period?
To focus on this test. This is your priority. It is your opportunity to prove your worth and that you'll be a good addition to the team. Aside from that, be prepared for the content we're doing and be on time. We will be accompanying you during this process and will give some feedback on your performance if we feel some tweaks should be made, be also open to criticism.
How does the loot work for trials?
As a trial, you won't be having priority on gear. Experiences in the past showed us some players just want to get geared and use trial periods to achieve this. Understand that we will be focusing on our members and won't risk attributing loot to someone who might not stay with us. Naturally, you'll be given a chance to get gear that no one needs. But this shouldn't be a concern of yours during this period, focus on passing this test for now.
But I feel my gear level is not up to the task/other raiders and it's setting me back...
That is a not an argument we accept, one that does not give us a good impression already. Do not worry, your gear level will be considered and won't affect your trial analysis. We are aware your performance might suffer from the lack of better gear and we will look at the data with that in mind. However, if loot is such a big issue, perhaps it's best to have a trial elsewhere.
I've failed the trial, but I'd like to still join you. Is it possible?
Of course! Granted we liked you, you can join us as social and participate in several activities (including alt/casual runs). Although, we advise you not to make this decision based on hopes of getting a raid spot: for now, your trial is over and we got the feedback we needed. Doesn't necessarily mean you will be locked out of this opportunity forever, but there will be certainly reasons to not have succeeded in this experimental process. Improvements on those would have to happen, which is something only seen over the course of a continued period.
I've passed the trial! What's next?
Congratulations! Welcome to the team! Our first step will be to have a chat with you to explain in more detail how the guild operates. In this initial phase you should be now focused to get to know our members, they don't bite and we want you to be involved. From now on you'll have access to our guild perks (repairs, access to the guild bank and consumables provided for raiding, along with the ability to participate in other guild activities; the loot restrictions will be lifted and we'll be applying the general loot rules to you as well. But don't slack, we can revoke your raider status at anytime, so keep up the good work.
I have more questions I'd like to ask about your guild.
That is not a problem, the officers are readily available to help you however we can, clarify your doubts and answer your questions, or give you more information you wish to know. Poke us anytime.
To join us in this endeavor, check our recruitment status!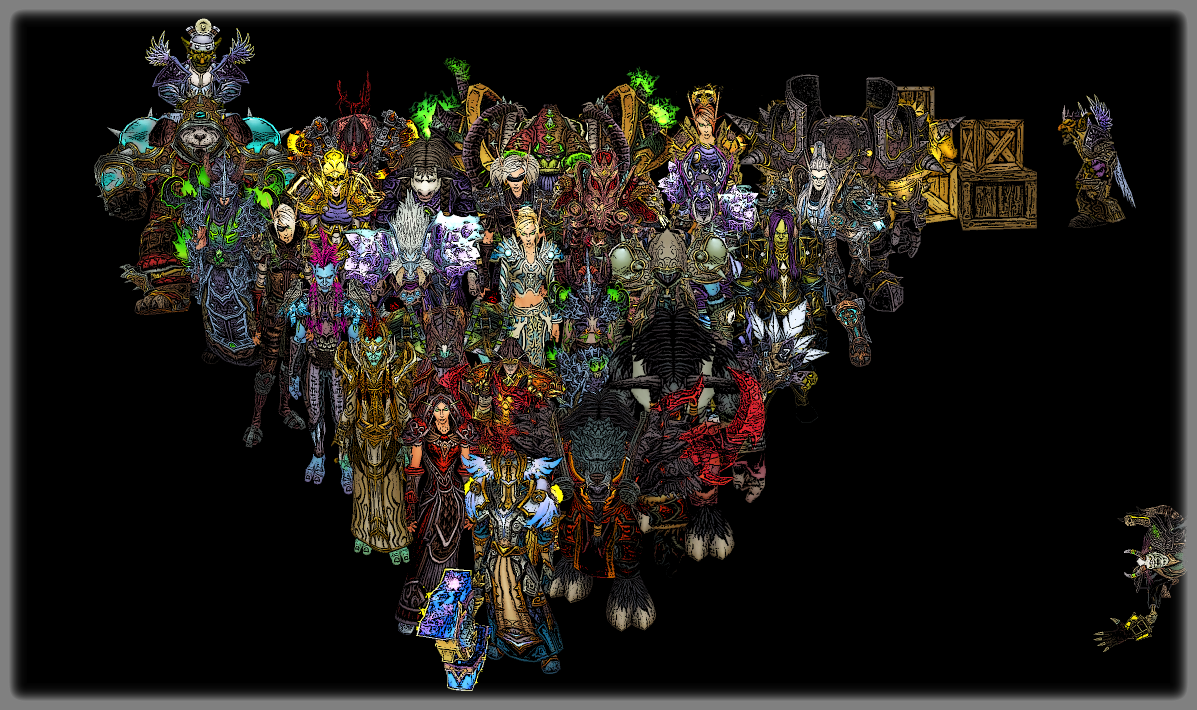 Legion Raid Team